103rd Psalm Part 5: From the Pit
Posted by flyingbk on 11/14/2016
First, a plug for the Scripture Typer app. I use it regularly to memorize Bible verses. It's awesome. I love it. Try it. It's free!
1 Praise the Lord, my soul;
    all my inmost being, praise his holy name.
2 Praise the Lord, my soul,
    and forget not all his benefits—
3 who forgives all your sins
    and heals all your diseases,
4 who redeems your life from the pit
    and crowns you with love and compassion,
5 who satisfies your desires with good things
    so that your youth is renewed like the eagle's. (Psalm 103, NIV)
We continue our look at Psalm 103 (Past entries: Part 1, Part 2a, Part 2b, Part 3, Part 4). We've been looking at this psalm as a progression that gets better and better. We are now at verse 4. God forgives all our sin, and then heals all our diseases. Now we get to the pit.
In his brilliant book The Good Soldiers, David Finkel tells a story that well encapsulates the types of challenges soldiers faced during the Iraq War surge:
Still, on June 5, Kamaliyah was a long way from having sewers, which meant that the trenches were filled to their rims as a convoy pulled out of the COP on a lights-out mission to rendezvous with an informant.

"Go right! Go right!" one of the soldiers in the last Humvee yelled to a driver, who was fiddling with his night-vision goggles, or NODs, as they rounded a corner, but it was too late.

The Humvee began to slide into the trench. Then it flipped. Then it sank. Then it began filling up.

Four of the soldiers scrambled out a door and got out of the trench relatively dry, but the gunner was trapped inside. "He was yelling," Staff Sergeant Arthur Enriquez would remember afterward, and if there was any hesitation about what to do next, it was only because, "I didn't want to jump in the poo water."
We've all felt like that gunner throughout the seasons of life. Trapped by despair and our insecurities. Wondering why we have to suffer, and if there's really any meaning to it. Feeling like we're sinking little by little, with hope slipping away.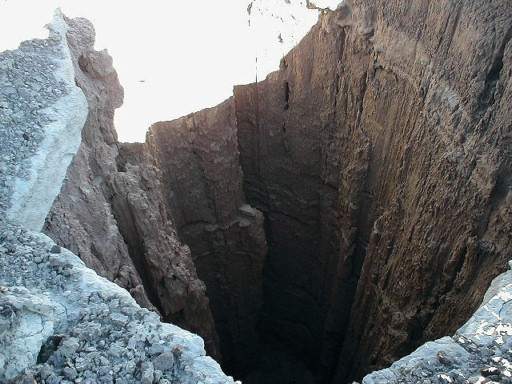 Sometimes, it's other people's fault. So we make them easy scapegoats and blame them for all of our problems. But if we're honest with ourselves, a lot of where we've ended up is our own doing. I'm reminded of a quote I once shared before, concerning the Old Testament Israelites in exile:
In the case of the chosen people, who for nearly seventy years had been strangers in a strange land, and had drunk the cup of bitterness to is dregs, there was thus added weight to their sorrow–the conviction of their captivity being the result of their own impenitence and transgression. This is the bitterest of all–to know that suffering need not have been; that it had resulted from indiscretion and inconsistency; that it is the harvest of one's own sowing; that the vulture which feeds on the vitals is a nestling of one's own rearing. Ah me! This is pain!
-F.B. Meyer, Christ in Isaiah
(I actually shared this quote back in college for my school's Christian newsletter. Yup, it's still available online. Not crazy about my writing in that article, though.)
So then we feel stuck. We feel like we're in the poo water (ew). But thanks be to God. He's the one who can deliver us, and willingly does so. Finkel continues:
And then?

"I jumped into the damn poo water."

Down he went, into the crew compartment, where the gunner was stuck in his harness straps, his head partly in the sewage water, which continued to seep in. Enriquez got one arm around the gunner and lifted his head higher, and with his other hand began cutting away the straps. Now he and the gunner were nearly submerged as he pushed the straps away and began pulling at the gunner's body armor away. He squeezed his eyes shut. He wondered how long he could hold his breath. He felt for the gunner's waist and began pulling. Everything was slippery. He tried again. He got the gunner to the door. He kept pulling, and slipping, and pulling, and now they were out the door, out of the Humvee, out of the sewage, and up on the bank, and that's how this month of hopeful signs began for the 2-16, with two soldiers wiping raw Iraqi sewage out of their eyes and ears and spitting it out of their mouths.
That's what Jesus does for us. He got down into the poo water, and emerged victorious. He paid the price that we couldn't pay, he endured the physical suffering and relational severance that we couldn't bear, he descended into hell so that we would never have to dwell there. He went down into the deepest, darkest pit so that he could forever lift us up: from literal hell, but also from the pit of hopelessness, of meaninglessness, of helplessness.
But, but, wait… there's more! One way the devil attempts to discourage us is by saying this: "Well, so you got out of the pit, you got out of the burned-down house. But where you gonna go now?" So we immediately get down all over again, thinking about the next steps and the so-called uncertainty that lies ahead, and we fall back into anxiety and worry. But hello! We just got redeemed from the pit and saved from hell!!!
We actually have so much to look forward to, but instead we choose to ruled by fear, bemoaning what we can't control. The good news is that not only does God save us, he also then crowns us… More on that next time.
*****
I finished Nicola Yoon's The Sun Is Also a Star last night. I absolutely LOVED this book. The two main characters are Daniel, a Korean high school senior whose parents want him to go to Yale, and Natasha, a Jamaican who is trying to fight off her family's impending deportation. They happen to run into each other on this fateful day (the novel basically spans only one day). Daniel is the poetic, sensitive type while Natasha is the already jaded, science-driven one who is all about the data. So yes, it can be a cheesy opposites-attract story at times. But Yoon interposes her narrative with delightful historical and cultural insights, and her ending is pitch perfect. Certainly, if you're Korean, you'll enjoy it even more (they spend quality time at a noraebang, naturally). There was a big smile on my soul, mixed with a tinge of pathos, as I read and finished this book. I enthusiastically recommend it.
*****
Pete Carroll became my favorite NFL coach last night. With 4:24 to go in the 4th quarter last night, the Seahawks took a 31-24 lead on the Patriots. I have been waiting for a coach to do the bold, right thing by going for 2 in that situation. Why? If you make the 2, you take a 9-point lead and the game is basically over. If you miss it, you still have a 7-point lead (Contrary to what Jack del Rio did in Week 1, almost no team is going for 2 when an extra point means overtime). The 2-point try especially makes sense when you consider that the extra point is no sure thing anymore (look what happened earlier yesterday!), and usually reliable Seahawks kicker Stephen Hauschka did this a couple weeks ago:
Bravo, Pete. Perhaps he learned something from that kick (the look on his face as he watches the miss is priceless), and there may be hope yet for NFL coaching.